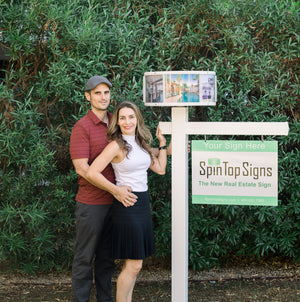 The Story of
SpinTopSigns
A passion to improve the home buying & selling experience for realtors nationwide.
The goal of SpinTopSigns is to become the marketplace differentiator for realtors everywhere.
Zack & Erica Greenberg
Co-owners & Inventors
Founders Zack and Erica Greenberg have long been interested in the real estate industry. Erica obtained her AZ Real Estate License in 2017 and received her first personalized "For Sale" signboard shortly thereafter.  At that time, she and her husband Zack, an engineer by trade, pondered over the fact that real estate "For Sale" signage had remained exactly the same for countless decades, and thus began their quest to reinvent the real estate sign.  
Their patented design concept took years to formulate and perfect. All aspects in form and function were considered in the design, focusing on quality, reliability, and effectiveness. Their primary objective was ensuring that buyers, sellers, agents and brokers all benefited from the new way to present homes for sale.  "Initially, we thought about it from the most basic level by asking each other, what is the purpose of a real estate sign?  
When our answers were to draw attention to a "For Sale" property, highlight the listing agent, and help prospective buyers in their home search, we found a better way to accomplish each of those things" says co-Founder, Zack.  Adds Erica, "when prospective home buyers interact with our signs and smile as they spot a home feature that they love, I feel so much pride in knowing that we've also helped to make home hunting less burdensome, and more enjoyable!" 
Zack and Erica now strive to introduce agents around the country and beyond to a new and better way to advertise their listings and services.  The greatest reward is when realtors report how utilizing SpinTopSigns has elevated the home buying and selling experience.